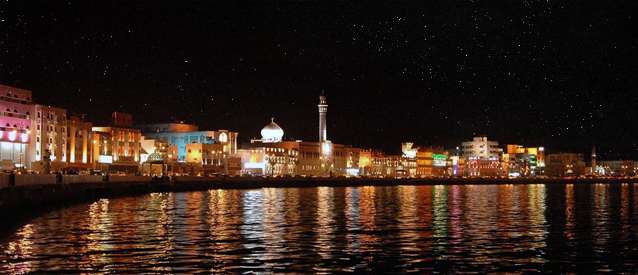 Oman possesses a rich diverse topography ranging from the rugged mountains and rocky deepwater fjords in the North, to the spectacular dunes of Sharqiyah (Wahiba) Sands in the East, two large salt flats in the centre and the lush green hills of Dhofar region in the South. The northern coastal strip is the Batinah Coast, a narrow fertile plain separated from the rest of the country by the Hajar Mountains, the highest peak being the Jabal Shams (Sun Mountain) at 3,075 m. The varied geography of the Sultanate has resulted in a wide variety of climatic conditions.
 
The hottest months in Oman are June through August. The summer monsoon just touches the southern coast of Dhofar bringing light rain during these months (the Khareef). The most  pleasant months to visit Oman are mid-October through to March, when daytime temperatures fall in to the lower 30s and below. For its size, Oman boasts an unprecedented number of UNESCO–classified World Heritage Sites, including Al–Blaid, site of the ancient city of Zafar; the Bat tombs, which date back 3,000 years; Bahla Fort; and Ras Al–Hadd, home to the rare Green Sea Turtle. Oman's heritage features a prominent sea-faring tradition, as one would expect from a country with 1,700 km of coastline.
 
Muscat is the capital of Oman, a cosmopolitan but relaxed city, free from the hustle and bustle found in many of Arabia's other capital cities. Today, under the leadership of His Majesty Sultan Qaboos Bin Said, Muscat has become a modern city, but has never lost its pride in its heritage  and culture. A legacy that has been passed on from generation to generation, the art, culture, folklore and artistry has to be seen. There is much more in the heart of Oman to explore: the  sense of respect for time, for people, and for nature.
 
The capital area is a prime example of intelligent and aesthetic development, blending ancient and modern times. Muscat has a number of beautiful beaches, public gardens and parks. Muscat rose to importance with the Portuguese occupation of the Persian Gulf, and is noted for the extent of Portuguese ruins about it. Two lofty forts, of which the most easterly is called Jalali and the western Mirani, occupy the summits of hills on either side of the cove overlooking the town, and beyond them on the seaward side are two smaller defensive works called Sirat. A ruinous low sandy isthmus connects the rock and fortress of Jalali with the mainland.
 
Muscat has many places of interest, especially museums and forts showing the history of Muscat. But current development has changed the city into an interesting combination of old and modern with beautiful scenery of mountain and beaches.
Useful Links
• Useful Information about Oman

• Oman Ministry of Information

• Ministry of Foreign Affairs

• Oman as a Tourist Destination
www.omantourism.gov.om/
www.destinationoman.com
www.oman.org/tourism.htm

• Andy Carvin's Muscat Photo Gallery

• Photo Galleries and Videos from Muscat